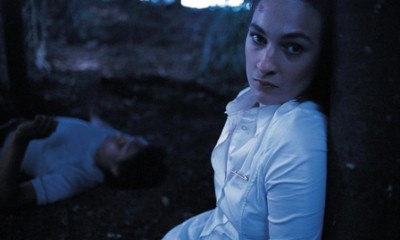 The New Zealand Film Festival invited the Moving Image Centre to make a selection of the year's best New Zealand shorts. The MIC Programme provides the only chance at the Festival to see these films. The 2001 programmes were supported by Creative New Zealand and bFM and selected for the MIC by Deborah Lawler-Dormer, Helen Martin and Christl Harvy.
He's haunted by demon thoughts, and he could be losing it. Or is the woman with the gun just what she seems to be? 'We've all got an angel inside, waiting to devour us.' A cool tone poem, with deft digital gymnastics and a soundtrack to die for.
Gothic shocker with a foetal twist. Down on the farm the rural idyll turns sour when the hired hand gets ideas above his station. 'Some of them just aren't meant to make it.'
Out on the bleak suburban fringes live the abandoned ones – a forgotten old woman, a bunch of wild kids. Shot with fly-on-the-wall detachment and paced to give the viewer room to move, Junk asks us to ask ourselves, 'What if they meet?'
Mateship… Godzone… men alone… When Barry and Kev go fishing the myths look set for an outing… until Kev rocks the boat. Those beer ads will never look the same again. Beautiful…
A cold, blue night… a deserted country road… a young woman waking in a crashed car with a bump on her head. Down the bank she finds more than she's bargained for… and there's a grisly footnote. Chilling.
A second-hand set of french doors – Light isn't all they let in…
An old man nurses his beloved, dying wife. Their adult children phone home, remote and disengaged. From moment to moment the silent question hangs in the air – What is love?
An estranged father's last-ditch shot at claiming his daughter is wild, inventive and laced with pathos. There's a lightness of touch in the storytelling and a painterly aspect to the images that make this a film to remember.