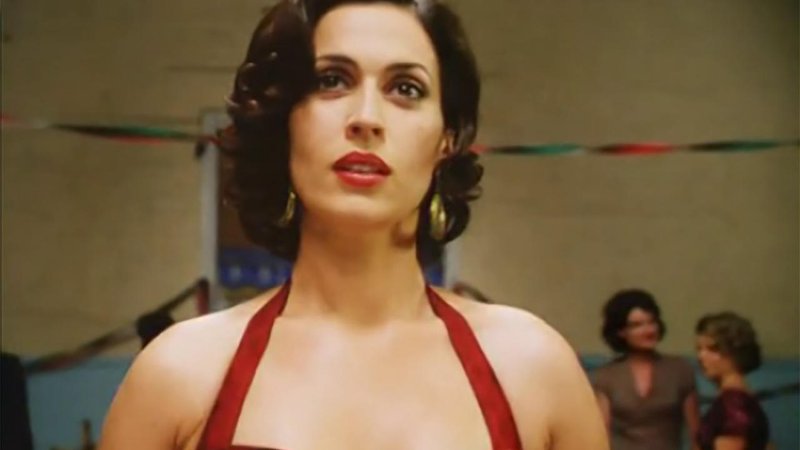 This bold, bittersweet comedy about growing up Australian with a stunningly beautiful, flamboyantly bad Spanish mother comes to us direct from its world première at the Sydney Film Festival. Writer/producer Anna-Maria Monticelli is already known in New Zealand as Anna Jamison, the actress who played the adulterous woman in Smash Palace. She was born in Morocco to an Italian-French father and Spanish mother, and did her growing up in Australia. Her fresh, irreverent approach to assimilation issues displays all the assurance of the extremely well-informed. The film is directed with appropriate gusto by her husband Steve Jacobs. — BG

1960s Australia, not the swinging city, but a dusty fibro surrounded by sun-browned grass with an oil refinery as a backdrop. Lola (Lola Marceli) is very much the exotic Spanish woman, defiantly serving chorizos in a land of roast lamb and veggies. But her husband, Ricardo, has had enough of her tempestuous ways. He heads for calmer waters with his all-Australian mistress, Wendy, and the family savings. Lola and her adolescent daughter, Lucia (Alice Ansara in her début feature), are left with a goat, a flock of pigeons and one very empty refrigerator.

The feisty Lola struggles on, but boy, is she angry – and plenty of that temper lands on Lucia, who like any good daughter adores her father and misses him terribly. When Lola's eccentric sister arrives, Lucia has a taste of what family life could be, but it's all too brief. Lola's passionate lust for revenge, fuelled in part by Ricardo's purchase of a shiny new automobile (not to mention blonde Wendy cruising by at the wheel), is driving a wedge between mother and daughter. Lola's procession of lovers widens the rift, especially when the oh-so-sexy Stefano (Alex Dimitriades) seems just as interested in Lucia as in her mother. This comical tale of love and survival is laced with a liberal amount of Mediterranean locura. — Gayle Lake, Sydney Film Festival 2001.