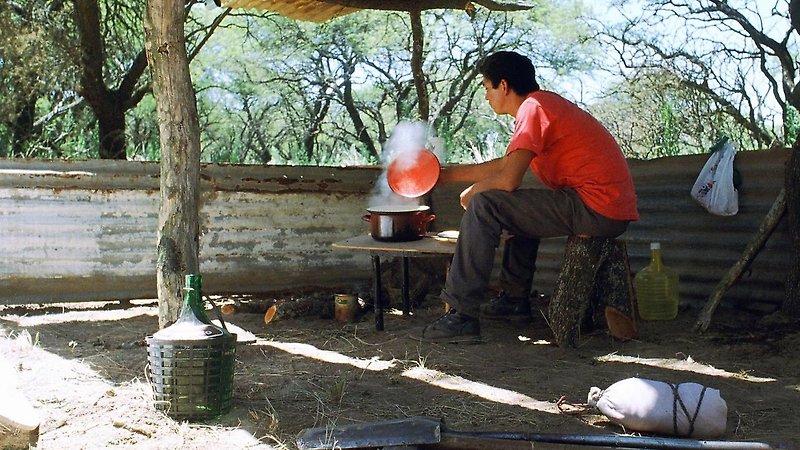 "Utter simplicity is the key to Lisandro Alonso's disarming first picture, a strangely fascinating story about one day in the life of a young woodcutter that's so beautifully and fluidly constructed that one could go on watching the hero much longer…
Opening on a bare-chested man eating in front of a campfire, Alonso follows the youth into the forest the next morning, where he chops down trees and hones them into large pieces of timber. A neighbor with a truck picks him up, and he hauls his wood to a dealer, who pays him a hard-earned $27 for the load. He returns to his camp and roasts an armadillo over the fire for dinner, thereby recalling the first scene.
Although Misael Saavedra, the young protagonist, really works as a woodcutter and Freedom recreates his life, the picture has a strong fictional feel. Its beginning is also its ending, as a thunderstorm that lights up the sky behind the hungry man in each case serves to create an abstract time scheme. The picture is strongly structured around the natural world, which forms a backdrop to the woodcutter's every move. The first thing he does in the morning is answer a proverbial call of nature; then sounds of the forest and his footsteps in the grass create the sonic backdrop for his purposeful human activity. Cobi Migliora's cinematography emphasizes nature's beauty as a whole, without close-ups, letting Saavedra blend into the landscape in perfect harmony with the ancient art of woodcutting that he practices.
Alonso casts such a spell around the forest that it comes as a surprise to find the woodcutter also enjoys such amenities of civilization as a gas-powered saw, an alarm clock and Latino rap on his transistor radio. It seems equally strange (though really perfectly natural) for him to place a phone call to his family from a store and to ask the boy behind the counter where to find a girl. In the end, the film requires the viewer to reflect on the nature of time and space and the relationship of work to basic human survival and, naturally, to freedom. Its charm lies in the affirmative quality of its answer." — Deborah Young, Variety