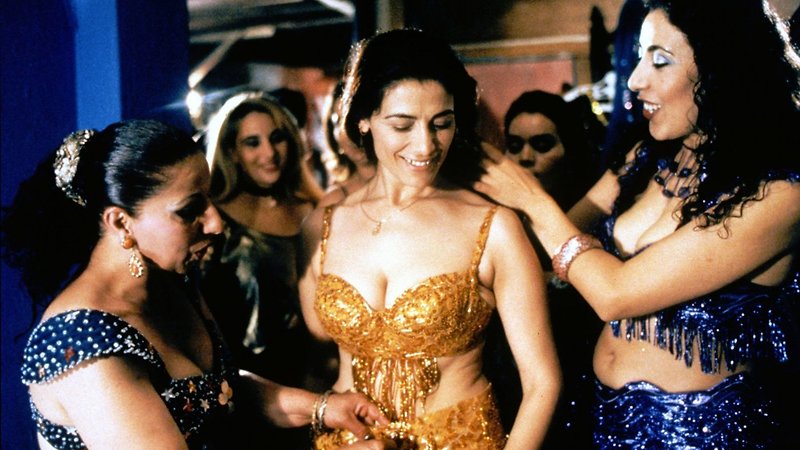 Satin Rouge
2001
Red Satin
"Like Jane Wyman in Douglas Sirk's All That Heaven Allows, the protagonist of Satin Rouge is a still-attractive widow stuck in a rut who eventually seizes the chance to break out and enjoy life. This handsomely produced and exhilarating romantic drama is the first feature by 30-year-old femme director Raja Amari…
Lilia, beautifully played by Hiam Abbass, has lived an increasingly lonely existence since the death of her husband. Her teenage daughter, Salma (Hend El Fahem) is always at school, or out with friends, leaving her mother to eat her meals alone, watch television sans much enthusiasm, and, by day, obsessively dust and clean the house.
All that changes when she goes to see Salma at her dancing class and suspects, rightly, that her daughter has a thing going with a musician, Chokri (Maher Kamoun). One evening, she sees Chokri in the street and follows him to the cabaret nightclub where he works at night.
This brings her in contact with a world she'd never known, a world in which ample women perform belly dances for enthusiastic, mostly male, audiences in a wild and exotic environment. Lilia finds herself strangely attracted to the place, and before long has befriended Folla (Monia Hichri), one of the dancers, and is trying on the scanty, sequined costumes herself. And then she's dancing on the stage with ever increasing abandon.
Tunisian films have always been in the forefront of permissiveness in Arab cinema, and Satin Rouge is no exception. This story of a "respectable" widow who kicks over convention, and even becomes involved with her daughter's lover, is handled with confidence and a gentle sense of humor that's most attractive. At the same time, the writer-director's depiction of the conservative neighbors and relatives who surround the heroine is incisive, and, again, reminiscent of the conservatives in 50s small-town America who were portrayed so vividly in Sirk's film.
Hiam Abbass gives a positively glowing performance as Lilia, a butterfly who bursts out of her cocoon in the heady world of the cabaret." — David Stratton, Variety