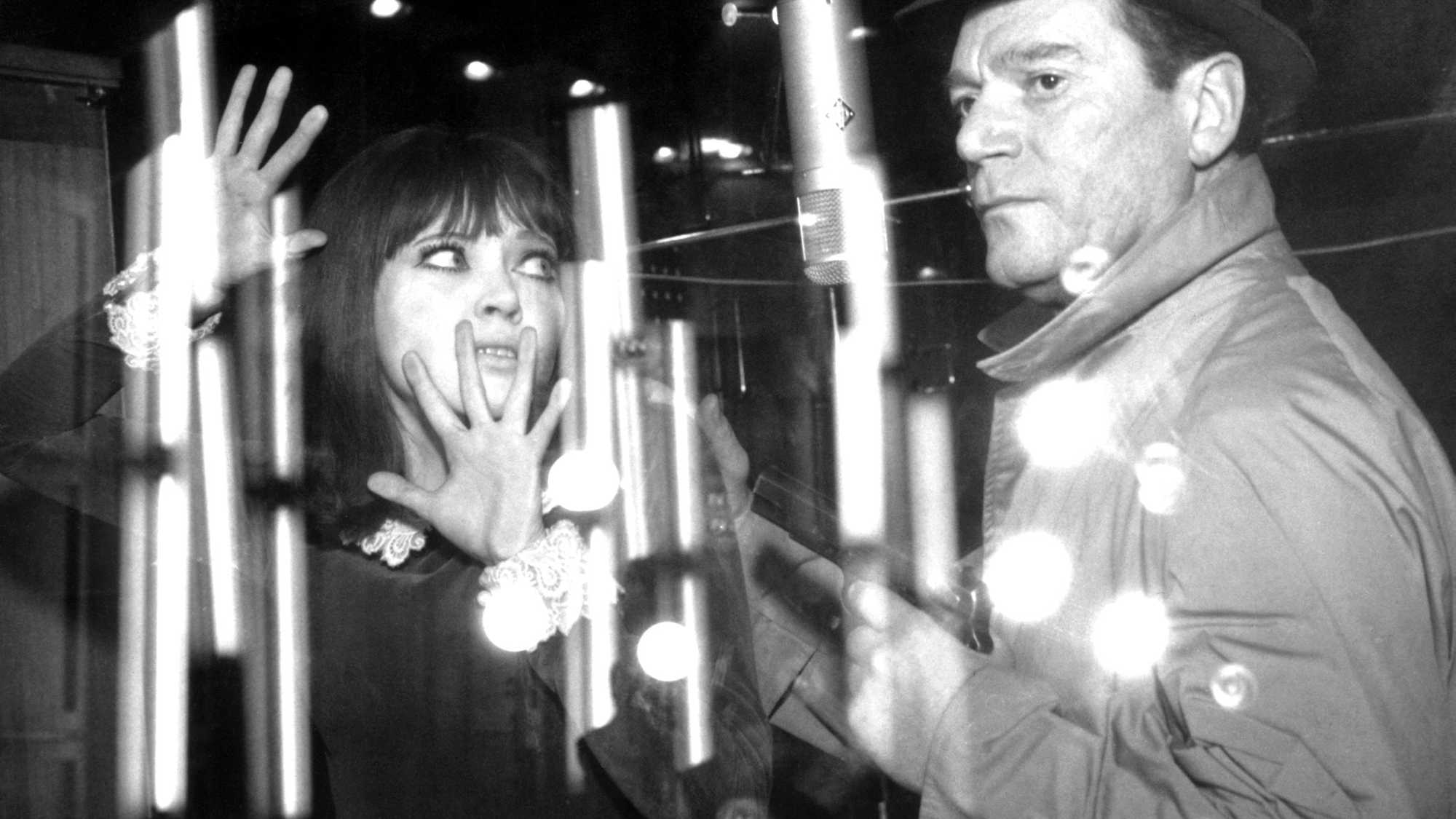 Scanner/Alphaville 2002
1965
Alphaville, une étrange aventure de Lemmy Caution
Innovative London-based audio scavenger and ambient electronicist Scanner performs a live, improvised score to Jean-Luc Godard's Alphaville.
Scanner, aka Robin Rimbaud, internationally known for his digital media manipulation, pop artistry and found-sound artefacts, is a hard act to describe. Anne Karpf in The Guardian: 'Audio artist is the simplest term for a fellow who has been sampled by Björk, admired by Stockhausen, performed with 100 violinists alongside Laurie Anderson, worked on Brian Ferry's new album, and had a Fellowship in Sound at John Moores University… Well, he's hardly likely to volunteer some of the descriptions which have been applied to him, such as sonic terrorist, data pilferer, cultural agitator, or flaneur electronique (electronic wanderer).' Says Scanner: 'I like the idea of being a magician and producing sound from nothing. I'm not a trained musician, but I think I understand how space works with sound.'
Early work controversially utilised scanned mobile phone conversations which he wove into his soundscapes, focusing on issues of privacy and the dichotomy between the public and the private spectrum. Over time, his methodology has shifted through performances and installations trawling the hidden noise of the modern metropolis. As a small mobile unit he is a frequent flyer, shapeshifting projects at every opportunity. As well as producing compositions and recordings, Scanner has created soundtracks for films, performances, and radio plays, and creates multimedia installations. He has performed and created works in many of the world's most prestigious spaces including MOMA, San Francisco, The Hayward Gallery, London, The Georges Pompidou Centre, Paris, Tate Modern, London and the Modern Museum in Stockholm. A consistent collaborator he has worked with artists Mike Kelly and Laurie Anderson, singer Bryan Ferry, graphics artist Tonne, DJ Spooky, architect Ben Kelly, film director Derek Jarman, poet Simon Armitage, composer Michael Nyman and writer David Toop.
His live performances constantly seek to break new ground: in 1999 he performed Surface Noise on a red London Bus around the city, in 2000 he performed over 20km of beach in Italy using the public phono system, resoundtracked Godard's seminal film Alphaville, and most memorably played 16 concerts in just one evening with a series of lookalikes across the globe. — Scanner press notes
"Everything has been said, provided words do not change their meanings, and meanings their words… Time is the substance of which I am made. Time is a river which carries me along." — Alpha 60 in Alphaville
A cult classic and a film that pushed the very medium itself beyond its limits, Alphaville has intrigued me since I was a student. The unforgettable dirty grinding vocalisations of the computer voice haunt electronic music today and the fusing of film noir and science fiction inspired a generation of film makers. Alphaville is a place where emotion is forbidden and poetry is forgotten, ruled by logic, a super computer. With its abstract, political and intellectual space-chase across the glass and metal landscape of futuristic Paris, we are caught within a film that dissolves boundaries between fiction and documentary, between actors and the characters they play, a situation which prevails in musical trends, with the divide between what is 'real' and 'not real' within music. Electronica shares the spirit of Alphaville, using a low budget style of creativity that captures the spirit of the time, often characterised by a cold, dystopian futuristic conscience. His use of sound on this and subsequent movies is extraordinary and my live improvisation within the frame of this work is a way of crossing time boundaries and exploring connections within his work.
It is curious to watch Alphaville today and too easily forget that the technical innovations of this film have been so widely absorbed that you can watch them today and hardly sense any of what was once new. With its odd camera angles, funky cuts, and offbeat characters and dialogue, Godard rebelled against the studio norms of the 1950s and 1960s aligning himself with other astute directors of the period: Rohmer, Resnais, Truffaut and Rivette, all figures of the nouvelle vague. Alphaville is a still a radical film that transforms the everyday into something baffling and intriguing. Everything may be familiar but nothing is recognisable. — Robin Rimbaud
Scanner's 2002 New Zealand Film Festival visit is presented in association with the Moving Image Centre and generously supported by the British Council.