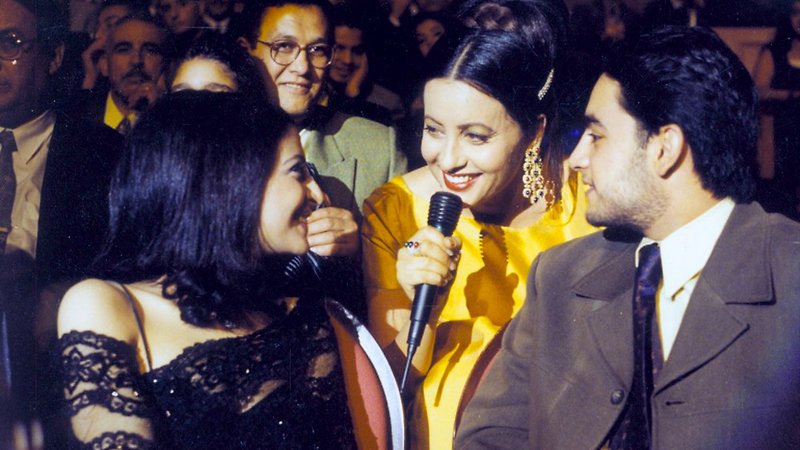 Silence… We're Rolling
2001
Silence… on tourne/Skoot Hansawaar
"The beating heart of show business pulses gloriously through this latest film from Youssef Chahine. It's a musical romantic comedy about the movie world, with a dash of Bollywood, Stanley Donen and Who Framed Roger Rabbit. The film is set in a westernised, cosmopolitan Alexandria, which with its hotels, musical theatres and beach scenes (some tongue-in-cheek back projections here) looks like bygone Hollywood's imagination of the Côte d'Azur. A super-successful screen actress Malak (Latifa) is being wooed by creepy Lothario and would-be star Lamei (Ahmed Wafik), an unreliable, gold-digging fellow with highlights in his hair. Meanwhile Malak's formidable mother is attempting to match-make her beautiful granddaughter Paula with her chauffeur's son, a radical, bookish intellectual.
It's impossible not to be carried along by the hellzapoppin' high spirits of Chahine's movie, which like all the best comedies is leavened with a touch of sadness as Malak's regular screenwriter, heartbroken by her infatuation with the unsuitable Lamei, reveals his own adoration – and then engineers Lamei's downfall with the aid of a hidden microphone, a device that certainly adds piquancy to the title. The happy ending has all the buoyancy of a Shakespearian comedy. A treat." — Peter Bradshaw, The Guardian
"Malak, the heroine, is a movie star and chanteuse of a kind we don't see much anymore in this country: imagine Barbra Streisand without pretension or Madonna without kink. She is played by the Tunisian singer Latifa, whose somewhat limited acting is overcome by her indomitable charisma and a figure as voluptuous as her voice.
The movie opens and closes with a song celebrating the open-hearted joie de vivre that characterizes 'a genuine Egyptian'. The song is ravishingly sung by Latifa and performed by a tuxedo-clad orchestra led by Omar Khairat, the composer and arranger who is an icon of this lush, sentimental style, a kind of Egyptian Nelson Riddle. The film charmingly renders present-day Cairo and Alexandria as zones of cosmopolitan suavity, troubled only by the passing storm clouds of romantic melodrama." — A.O. Scott, NY Times