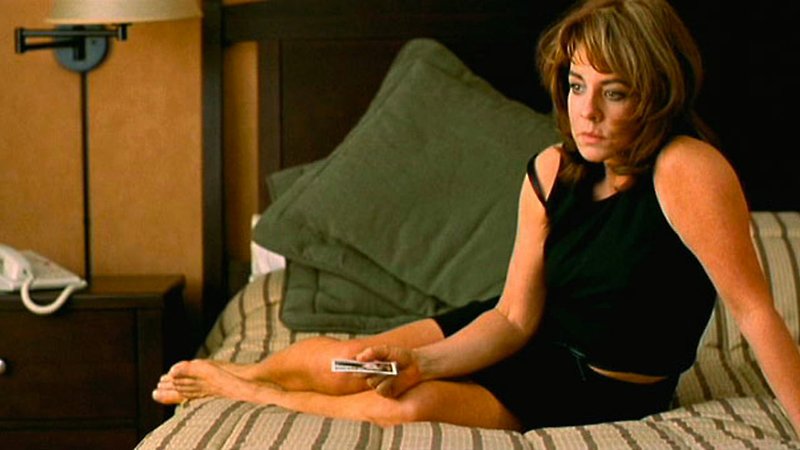 The Business of Strangers
2001
"Patrick Stettner's crackling, unpredictable The Business of Strangers teams Stockard Channing, a commanding presence in all media, and Julia Stiles, one of the most fearless and talented young actresses in Hollywood today. In a singularly confident feature debut, Stettner keeps us wondering whether he's setting in motion a highly charged drama or a suspense thriller, and this uncertainty pays off most effectively at the finish.
The film is a witty, razor-sharp study of character informed by Stettner's observations while working as an office temp. Channing's Julie Styron is a hotshot computer software saleswoman – chic, brisk, well-seasoned and all business. When we meet her, she's flying from one major city to another for an important presentation, but she's hamstrung by her new personal assistant's failure to arrive in time with the visuals. Stiles' Paula Murphy, flying on a different flight, met with a delay not of her own making, but an enraged Julie is in no mood for excuses, and in a flash Paula loses her job.
Then Julie receives some jolting information, and the return trips of both women are delayed. Spotting Paula in a hotel bar, Julie approaches the woman she just fired to make amends to fill her need for companionship… Paula, who warily accepts Julie's friendly overtures, does not respect Julie's kind of success and the price Julie has paid for it. She explains that she's a writer who enjoys 'the sloppiness of real life.' She also enjoys jousting with Julie over values and priorities. Regardless of whatever ulterior motive the often outright insolent Paula may harbor, she is getting Julie to confront herself as never before; Julie in turn drives home some truths – or does she?
…Channing and Stiles energetically sustain Julie and Paula's sparring until the film's final payoff, in which the unexpected compounds the unexpected. All the while Channing is doing a superlative job of revealing the loneliness and also the middle-aging lurking just beneath Julie's sleek façade… Stiles' primary task is to keep us guessing… Ultimately, the film's key character is Julie, who evolves so effectively in Channing's flawless playing and in Stettner's perceptive writing and direction. The film itself is handsome, and the impersonal quality of its airport and hotel settings underlines Julie's loneliness and essential isolation. The Business of Strangers is crisp and provocative, and no small amount of its pleasure derives from Channing's dazzling performance." — Kevin Thomas, LA Times