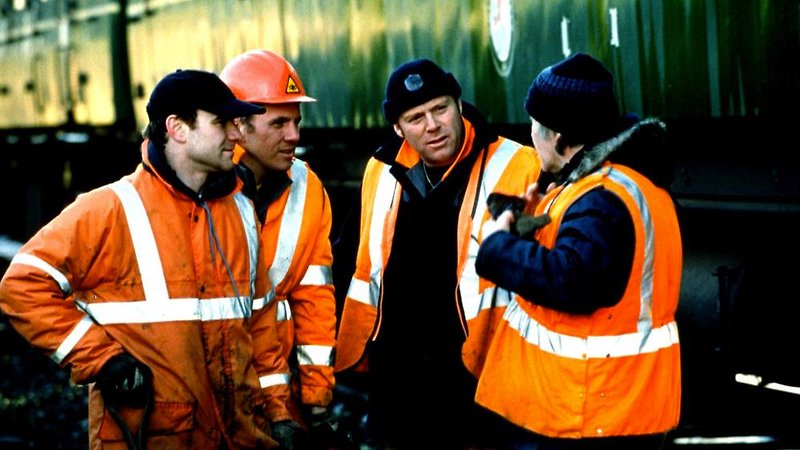 "The navigators in question are the men, known colloquially as 'navvies', who maintain the tracks of Britain's railway system. It's the mid-90s and British Rail is in the throes of privatisation. At first the workers laugh off the immediate effects: their company's succession of new names and new signs, its pompous 'mission statement' of goals and objectives and the curious changes in working practices.
Gradually the deeper implications bite. Redundancies follow, first voluntary, then compulsory. Workers go self-employed, signing up with agencies which give them no social benefits and treat them as disposable. Costs are cut in order to compete with rival companies, nibbling away at working conditions and finally compromising human safety.
On paper, the subject sounds like the driest of material and the political message is unmistakable. It's also bitterly topical for an audience in Britain which has witnessed a series of terrible train accidents over the past months and is currently observing yet another battle royal over the controversial part-privatisation of London's Underground network. But the film is also supremely entertaining and affecting. The confrontations at the workplace find sharp human drama in abstract, sometimes complex issues, and the scenes showing characters with their families suggest the impact of the changes on their private lives…
Yet the heart of Loach's achievement is his skill – honed and refined throughout the director's career – in drawing out untried talent. The Navigators was not a commissioned script: the first-time writer, Rob Dawber, a railwayman of 18 years' experience, lived through these events and approached Loach with his idea speculatively. Tragically he died of cancer caused by exposure to asbestos at work earlier this year.
A number of the cast members are not trained actors but stand-up comics from England's Northern club circuit. The easy rapport and banter between them in the film, reminiscent of the construction workers in Loach's 1991 film Riff Raff, are key to its rich seam of salty humour in the early sections (even though some viewers may have a struggle with the actors' thick South Yorkshire accents)…
Like all the most challenging art, the film takes a very specific story and setting and uncovers universal meaning within it." — Sheila Johnston, Moving Pictures