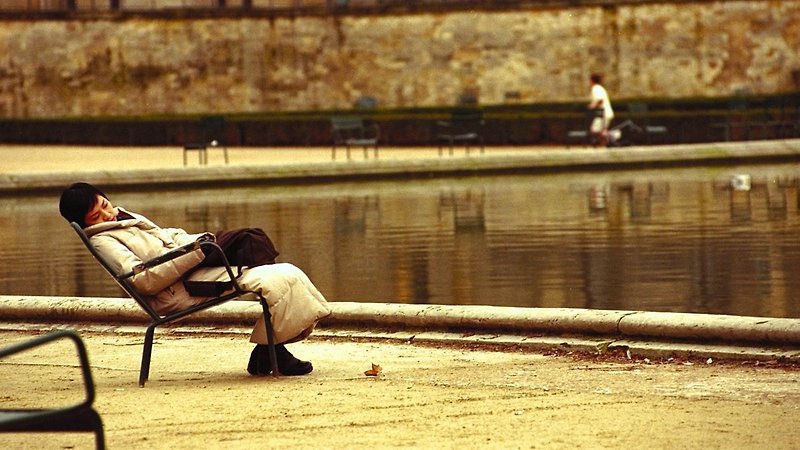 What Time is It There?
2001
Et la-bas, quelle heure est-il ?
"Existential slapstick? Epistemological comedy? Buddhist farce? Whatever it is, Tsai Ming-liang's witty, wistful new film, What Time Is It There?, is a temporal inquiry that shoulders its philosophical burden lightly… The poet laureate of Taipei alienation here integrates Paris into his particular planet – a ghost world populated by familiar presences. Just as in Tsai's four previous features, the director's alter ego, Lee Kang-sheng, plays an impassive, somewhat pained character named Hsiao Kang…
A watch vendor whose base of operations is an esplanade above downtown Taipei, Hsiao Kang is the straight man for whatever interactions come his way. He connects briefly with Shiang-chyi, who insists on buying his personal dual-time watch before she leaves for Paris. Hsiao Kang's halfhearted attempt to dissuade her – since he is in mourning, the timepiece will bring bad karma – has no effect…
What Time Is It There? is filled with purposeful, if absurd, activity rendered gravely hilarious through Tsai's deadpan, distanced representation of extreme behavior… Activities have an almost Warholian lack of affect… As Hsiao Kang, apparently obsessed by his meeting with Shiang-chyi, takes to compulsively resetting clocks of all sorts to Paris time, so his mother dutifully gets up in the middle of the night to cook dinner on what she imagines is her dead husband's new phantom zone schedule.
As the non-French-speaking Shiang-chyi sits alone in a Paris café, Hsiao Kang consoles himself with a rented video of The 400 Blows, a movie Tsai has called his favorite… Even more alienated than Hsiao Kang's Taipei, her tourist Paris sometimes seems to be a figment of Taipei's imagination… This evocation of inconsolable solitude and geographical dislocation has affinities to the melancholy globalism mapped out by the melodramas of European directors like Wim Wenders and Krzysztof Kies´lowski. But Tsai is far more restrained in his filmmaking. His visual language is austerely economical… Tsai's formalism fits his mordant view of human nature. A night of attempted contact – involving Shiang-chyi, Hsiao Kang, and his bereaved mother, in concert with assorted human and object partners – likely leaves everyone lonelier than they were before. But then, as a prelude to the movie's mysterious, poetic ending, Shiang-chyi inadvertently surrenders her baggage. The final scene, perfectly framing the action and presided over by a karmic Ferris wheel, represents a curious move from limbo to paradise." — J. Hoberman, Village Voice