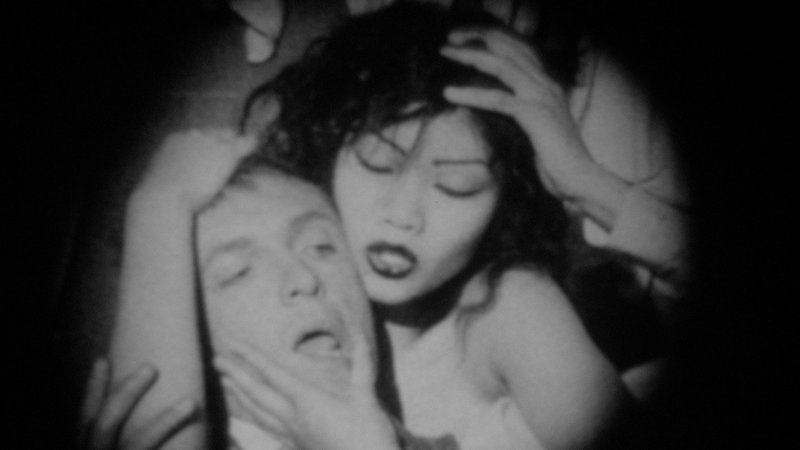 Cowards Bend the Knee
2003
How much more delirious degradation can cinema take at the hands of fey provocateur Guy Maddin? This faux-silent melodrama in ten chapters expands upon the inspired madness of his already classic short film Heart of the World to plumb new depths of anachronistic perversity.
The palpating hearts of that film are replaced here by a feverish, fetishistic flurry of hands: grasping hands, shaking hands, strangling hands; hands dyed, bound, severed and transplanted; hands forming claws; hands forming fists.
Whereas Heart of the World was besotted with the expressionism of Fritz Lang and the dialectical montage of Eisenstein, the kinkier-than-thou Cowards Bend the Knee – originally presented as a ten-peep-show installation, but here taking the form of a compiled serial – is inspired by the far grubbier traditions of salacious melodrama and very early pornography. The montage is more obsessional and fragmentary than ever, and the storyline spectacularly warped.
Hockey star Guy Maddin (the film could be considered a kind of anti-autobiography), who just can't resist the joy, joy, joy of meeting someone new, abandons his vulnerable girlfriend Veronica for vengeful vamp Meta. The increasingly frenetic action swings from the home stadium of the Winnipeg Maroons to the Black Silhouette Salon (beauty salon by day, bordello-cum-abortion clinic by night) and back again. As the fruity revenge plot becomes ever more convoluted, characters die and come back to life, and the touch/don't touch eroticism becomes increasingly perverse.
Photogenic absurdity mounts upon photogenic absurdity: strange goings-on in the locker room, baby manicures and various wax trysts are only the tip of the ice breast. Maddin, as ever, is beyond arch, but his archival delirium is redeemed by a connoisseur's appreciation of the early cinema he ransacks, and an artisan's pride in precisely replicating the look and feel of his source material. The whole film has the degraded look of the last ratty, barely-recovered print of a carefully suppressed classic.
For all its bone-deep silliness, the film is so crammed with startling, dream-like imagery and creepy psychopathology that it nevertheless leaves real bite- and claw-marks. Maddin, possibly for the first time since Careful! more than ten years ago, has succeeded in creating a feature so transcendently ridiculous that it manages to attain an uncanny resonance. — Andrew Langridge