Our 2019 Poster Artwork
Friday 26 April 2019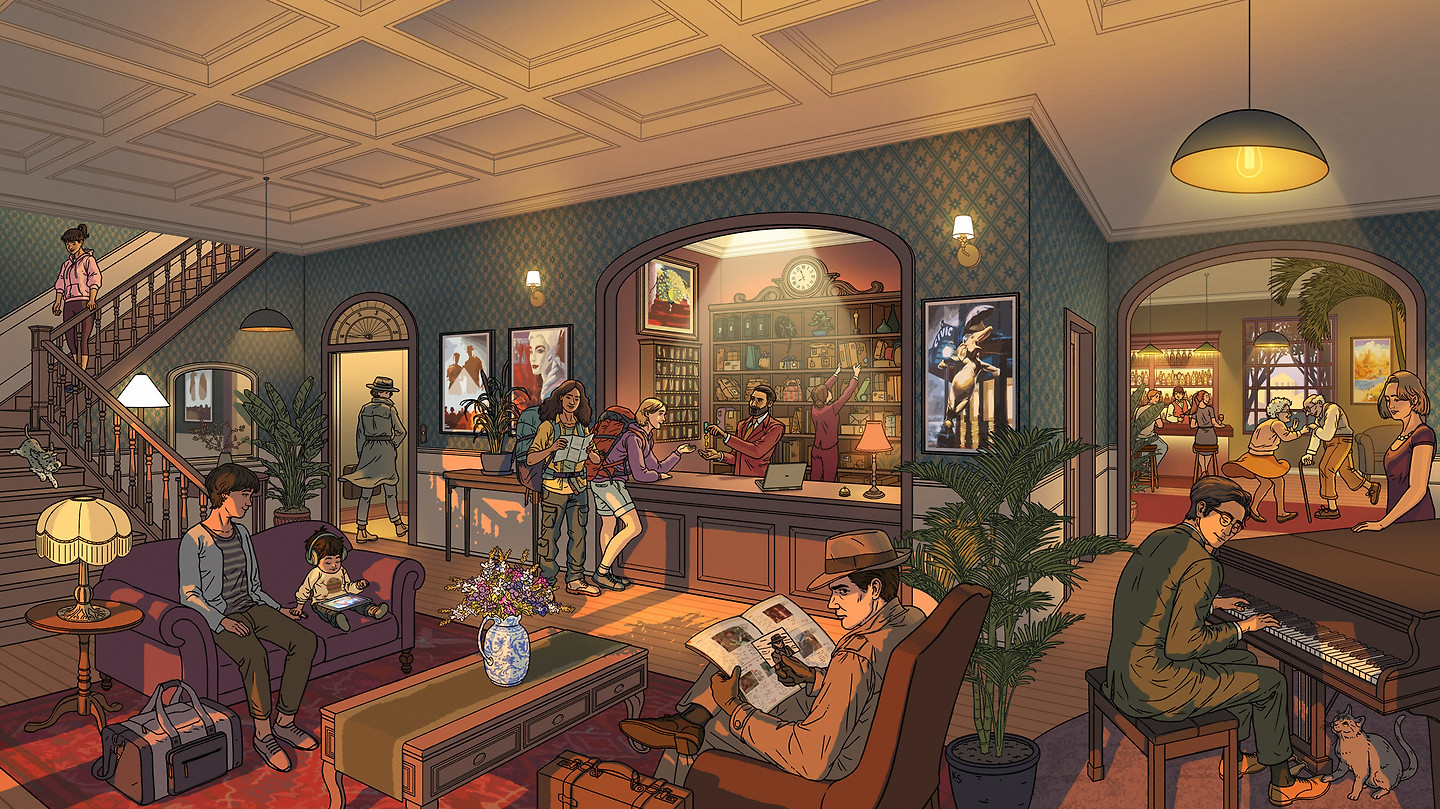 Join us with a cast of characters in the lobby of NZIFF 2019. Check-in, take a seat and settle in for programme updates from here on in. Many new worlds await and we're excited to reveal the first for 2019: our beautiful poster artwork designed by Ocean Design and illustrated by Ken Samonte. Ken returns for a second year as illustrator for the NZIFF poster and you may spot one or two returning characters from the 2018 florist scene. The artwork also represents Bill Gosden's final direction for us, overseeing the concept and revisions with his stellar eye and attention to detail. Thank you Bill.
"Ocean has enjoyed 30 years of true creative collaboration and partnership with Bill Gosden and his amazing team. With it being Bill's last festival as Director we wanted to create a truly memorable image. I think we saved our best for his last! The concept for this year's image drew on NZIFF-as-a-hotel metaphor that we have explored in previous posters, but this year, were able to envision and realise our most ambitious tableau thanks to the talent of illustrator Ken Samonte.
Working with Bill and the NZIFF has been an incredible ride, and we are so proud of the work we've created over the years. It's been our honour to work with him." says Blair Mainwaring and the Ocean Design team
Meet Ken Samonte, Illustrator of the 2019 NZIFF poster
What does it mean to return to the job for a second year?
For me the NZIFF poster is one of the coolest things an illustrator could work on, so to be asked to do it a second time makes me feel incredibly honoured and grateful. And seeing as it's Bill Gosden's last year as director, it felt particularly special to be illustrating this year's poster.
Where did the inspiration for the style of illustration come from?
It's the same style as last year's poster, which was mainly inspired by Tintin, New Yorker covers, Studio Ghibli, Pixar and other animated films. The rest of the inspiration is hard to put a finger on... bits and pieces that have accumulated in my brain over 28 years.
Who was your favourite character on the poster to draw?
The elderly couple. I like how the most dynamic characters in the image are those two.
What do you do when not drawing NZIFF posters?
I spend my time watching and playing football, listening to horror podcasts, working as a concept artist at Weta Workshop, drawing, watching Youtube and Netflix, and hanging out with my cat.
You mentioned that when you were a student you and your friends admired the NZIFF posters. Tell us about that?
Tom Simpson's film festival illustrations were a huge source of inspiration for me when I was a student. I was blown away by his use of light and colour, the interesting compositions and camera angles, and the painterly style. They had a magical quality to them. I never thought I would have the chance to contribute my own illustrations to the festival too. It's pretty cool to have worked on the same project that inspired me when I was younger and not so great at drawing.
About Ken
Ken Samonte is an illustrator in Wellington, New Zealand. Ken graduated from Massey University in 2013 with a Bachelor of Design (Hons), and now works as a concept artist at Weta Workshop and on freelance illustration projects.