New Zealand's Best Shorts Award Winners Announced
Saturday 25 July 2020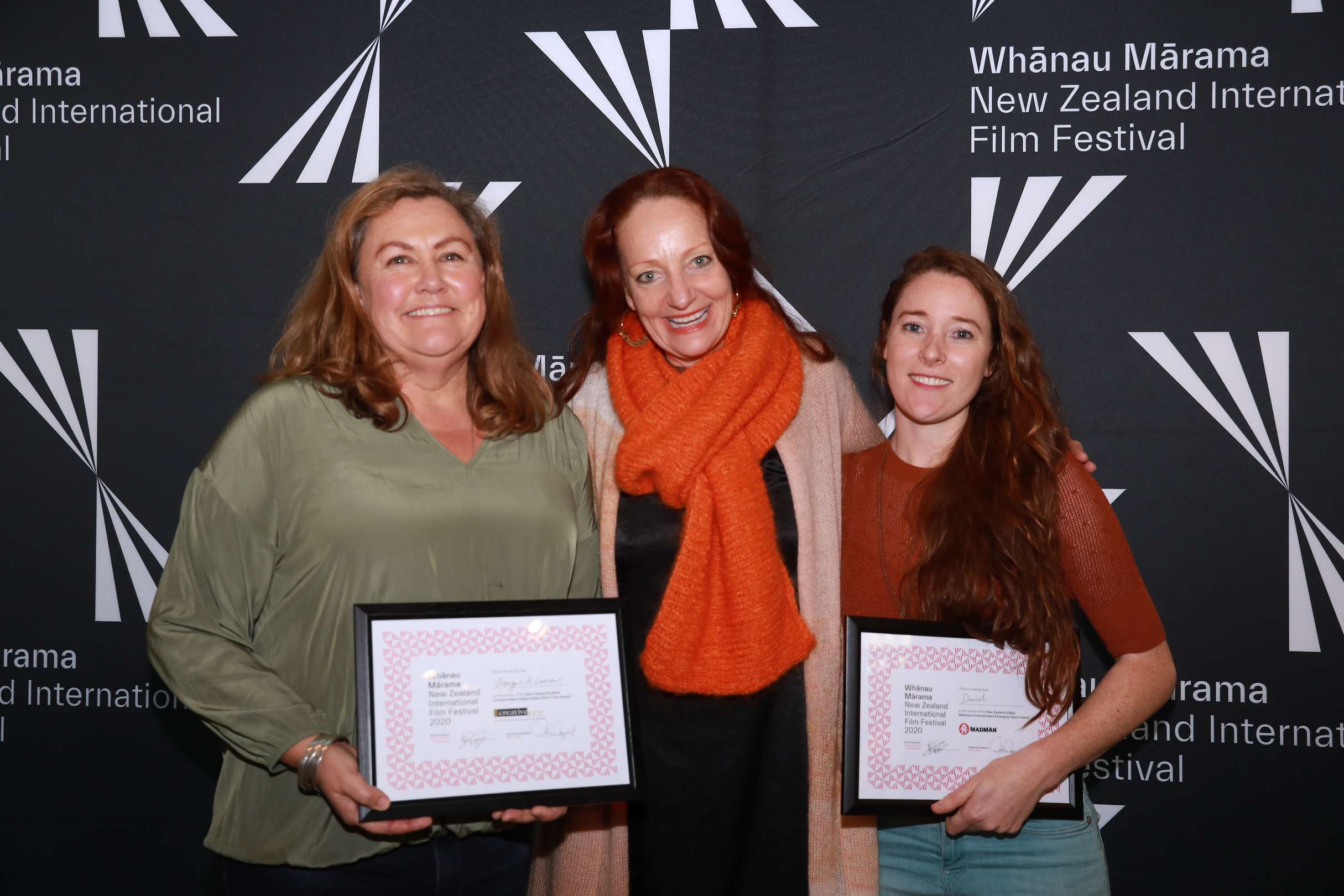 Congratulations to short filmmakers Robyn Grace and Claire van Beek who today were announced the winners of the ninth annual New Zealand's Best short film competition. The winning shorts were announced on stage today following the screening of the films at ASB Waterfront Theatre in Auckland.
The Creative New Zealand Jury Prize for Best New Zealand Short Film at Whānau Mārama: New Zealand International Film Festival was awarded to Oranges & Lemons. Director Robyn Grace received a cash prize of $4,000.

Robyn says winning the award is "amazing and very unexpected. This is a very personal story and one which I have waited a long time to tell. It was crowd-funded and my entire family is up there in the credits."

The Madman Entertainment Emerging Talent Award was awarded to Daniel. Director Claire van Beek receives a cash prize of $2,000.

Claire, who has been a volunteer with the film festival for many years, says the award was exciting and acknowledges all the work from the cast and crew. "Filmmaking isn't done on your own and this is a celebration of the work by everyone."

The awards were judged online by a five-member jury: Arts Laureate, renowned New Zealand filmmaker and Member of The Academy of Motion Pictures Arts and Sciences Pietra Brettkelly, Madman Entertainment Theatrical Sales Manager Luke Murray, award-winning author and screenwriter, and Creative New Zealand board member Briar Grace Smith (Ngā Puhi, Ngāti Wai), renowned New Zealand actor Kerry Fox, and internationally-acclaimed film producer, Academy member and Chair of the PJLF Arts Foundation (London) Olivia Stewart.

Of the two winners, the jury said: "Original voice and the courage to be true to it, and the full use of all aspects of cinema – rather than just relying on plot and performance – informed our choice for the two short films' awards."

The jury said Oranges & Lemons "evoked beautifully the world and anxieties of childhood both in visual detail and performance, demonstrates a courage to resist sensationalism and predictability, while at the same time challenging, in a subtle and gentle way, our conditioned assumptions about human behaviour."

Of Daniel, the jury said it was "unusual, inventive, surprising. Beautifully photographed and edited, it achieves a simmering intensity and reveals a strong director's vision."

The six finalists in New Zealand's Best, were Daddy's Girl (Kōtiro) (director Cian Elyse White), Daniel (director: Claire Van Beek), Love Is Real! (director: Calvin Sang), Oranges and Lemons (director: Robyn Grace), Pain (director: Anna Duckworth), and Safety Net (director: Anthea Williams).

Seventy-eight submissions were received for the New Zealand's Best competition this year with New Zealand International Film Festival Director Marten Rabarts, Head of Programming Michael McDonnell and Paris-based programmer Sandra Reid shortlisting twelve films, from which Guest Selector Tusi Tamasese selected the six finalists.

The six films are all eligible for the 2020 Audience Choice Award which is decided by audience vote from online screenings and in-cinema screenings at ASB Waterfront Theatre, Auckland, and Roxy Cinema, Wellington. Voting will close on Sunday 2 August at 6.00pm and the award will be announced that evening during the online Closing Ceremony. The winner will take home twenty five per cent of the online box office takings.