New Zealand's Best 2017 Winners Announced
Sunday 6 August 2017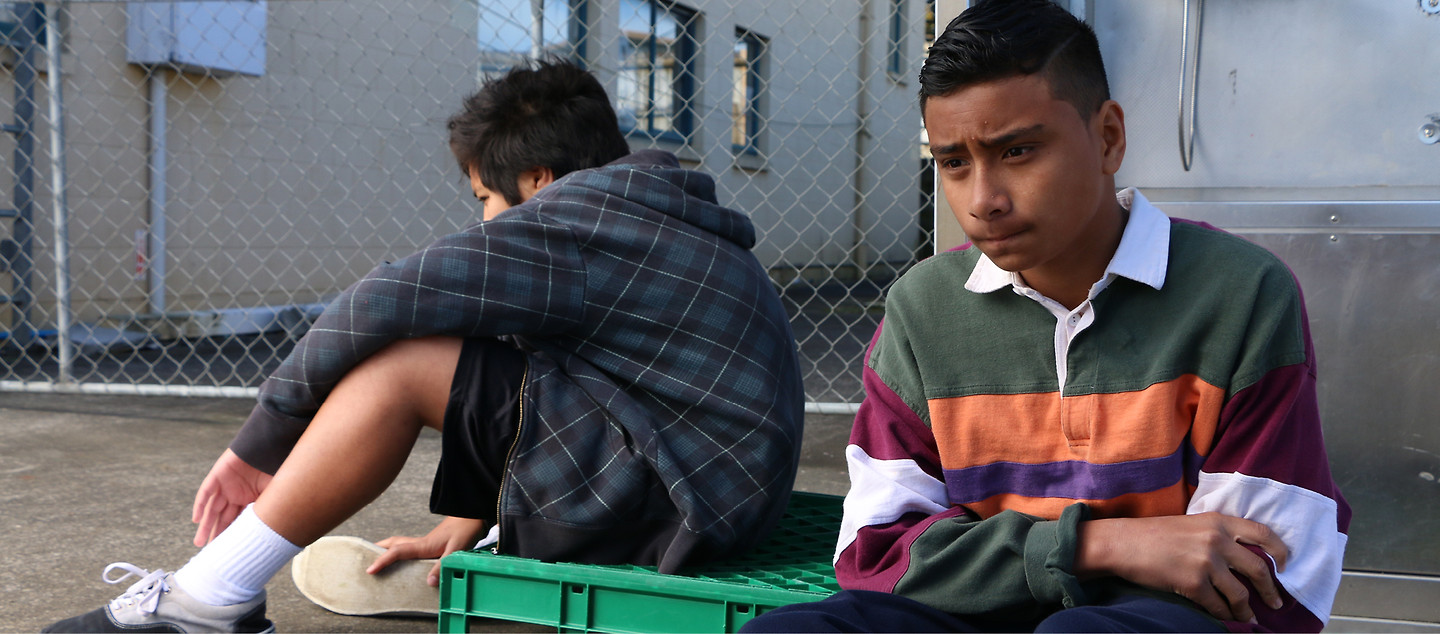 Congratulations to the winners of the sixth annual New Zealand's Best 2017 short film competition. The winning shorts were announced on stage at the Civic Theatre in Auckland on Saturday night.
The Madman Entertainment Jury Prize for the Best New Zealand Short Film at NZIFF 2017 was awarded to Waiting, directed by Amberley Jo Aumua. The jury noted in their citation that they were particularly impressed with the screenplay which contributed to the film's success and that the filmmakers had created a story with lasting impact despite having very few resources. Director Amberley Jo Aumua receives a cash prize of $5,000.
The Jury citation follows:
"In a field brimming with imagination and craft, just about any of the NZ's Best finalists would have made worthy winners. For us, however, Waiting shone through thanks to an engaging story, raw emotional force and ineffable charm that will linger long in the memory. Samuel Kamu's powerful screenplay and Amberley Jo Aumua's assured direction mark them out as prodigious emerging talents. We can't wait to see what they create next."
The Wallace Friends of the Civic Award was awarded to Thicket. The finalists for this award were assessed by Sir James Wallace and Associate Producers Steve Austin and Alex Plumb. The Wallace Arts Trust citation follows:
"This depiction of taciturn New Zealand farmers has been seen before, but the restraint and subtleties in the film create a beautiful tension between father and son while the fact that it was captured so well by excellent performances, direction, camera work and post-production, meant that we did not lose interest in what is otherwise a rather simple story. We are pleased to present the award to Writer/Director Julian Vares and Producer Craig Gainsborough for their efforts."
The filmmaker receives a cash prize of $4,000 (previously $3,000) and is the recipient of the Golden Elephant, fashioned in tribute to the elephants that grace the Civic Theatre.
The 2017 Audience Award, which will take home 25% of the box office takings from screenings in Auckland, Wellington, Christchurch and Dunedin, is awarded to Do No Harm, written and directed by Roseanne Liang. In 2016 the prize was valued at over $4,000.
Armagan Ballantyne, filmmaker, Toby Manhire, writer and columnist, and Andrew Cozens, representative for donor Madman Entertainment, judged the six short films selected by Guest selector and filmmaker Gaylene Preston.
Gaylene Preston selected the six finalists from a shortlist of 12. NZIFF programmers Bill Gosden and Michael McDonnell viewed 83 entries to prepare the shortlist.
The six short films in the competition were Do No Harm (Director/Screenplay: Roseanne Liang), Laundry (Director/Screenplay: Becs Arahanga), Thicket (Director/Screenplay: Julian Vares), Untitled Groping Revenge Fairytale (Director/Screenplay: Catherine Bisley), Waiting (Director: Amberley Jo Aumua), and The Dregs (Director/Screenplay: Matt Campbell). The New Zealand's Best 2017 shorts programme will screen around the country with NZIFF.
NZ films at NZIFF are proudly supported by Resene.