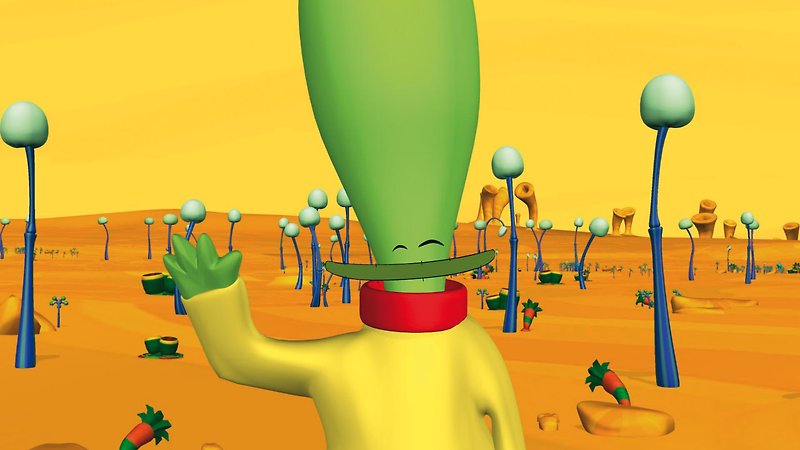 Mercano the Martian
2002
Mercano el marciano
Boldly drawn and squarely aimed at a mature audience, this cutely scurrilous Argentine animated feature allows us to witness our smash and grab world of multinational corporate exploitation through alien eyes. After an errant Voyager probe squishes his beloved space dog, Mercano impulsively leaves his Martian home swearing revenge. Crash landing on planet Earth, Buenos Aries to be more exact, Mercano is stranded on our strange planet with no hope of getting home. The only way he can alleviate his homesickness is by logging onto the internet and programming a virtual world just like home.
Before long Mercano's presence attracts the attention of big business entrepreneurs (think Microsoft cross-pollinated with the dreaded military-industrial complex) who eye his virtual world as a property ripe for exploitation. Mercano finds himself a captive of corporate greed and his virtual sanctuary perverted into a garish themepark cum shopping mall. His Martian technology proves entirely too compatible with our consumer driven society – much to the chagrin of a group of nihilists and the nerdy young boy that Mercano has befriended.
Independently produced at Buenos Aries' Universidad del Cine. With its producers not having access to the digital facilities of larger production companies Mercano the Martian features a combination of traditional hand-drawn animation with some 3D computer effects. The scenes and characters were all hand-drawn and scanned into a computer, where they were edited, composited and coloured digitally, whereas Mercano's virtual world was created with 3D modelling software. The effect gives Mercano the Martian a raw retro feel, perfect for its scabrous expose of corporate greed (and the perfect antidote to sleek homogenised mass–produced animation).
Director Juan Antin, who runs the Digital Animation Department at Universidad del Cine, and Ayar Blasco originally launched the character of Mercano in 1998 in the two-minute animated interludes which separated programs on the Argentine music channel Much Music. We're grateful that Mercano has boldly taken to the big screen with a film that is by turns hilariously vulgar, politically astute and infused with a visceral wit that sticks to the screen like a spray of gore. — Michael McDonnell