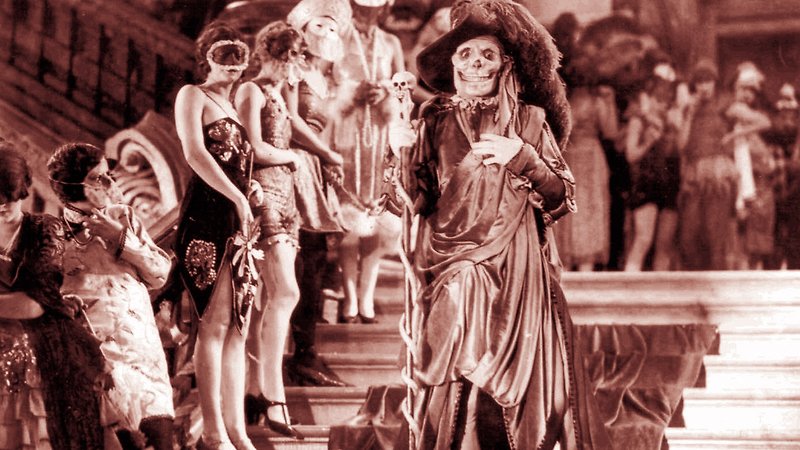 The Phantom of the Opera
1925
The Auckland International Film Festival and the Auckland Philharmonia collaborate to present a Live Cinema performance of this great popular classic with a thrilling orchestral score composed by Carl Davis. An early benchmark in movie horror, still imitated 80 years later, The Phantom of the Opera was directed by Rupert Julian, a son of Auckland. Restored in 1992, this definitive version includes the full colour Masque of the Red Death sequence that had Jazz Age audiences gasping in their seats. It's a strange and oft told tale: lovely Christine, an understudy at the Paris Opéra, believes the melodic voice coming through the walls of her dressing room is a guardian angel. In fact it is mad Erik, filled with love for her – and vengeance for anyone who gets in her way. He'll bring the mighty chandelier crashing down on a packed theatre if the leading singer does not make way for his innocent protégé. Eventually Erik takes Christine down through the catacombs to his underground lair where she sees his true face, that of a living skull, one of the most unnerving images in silent era cinema. On their trail is Raoul, her true love, dashing to save his lady as Erik forces her to make a terrible choice that could have fatal consequences for the patrons of the Opéra…
The story structure is episodic, and Julian's direction is often formulaic, but the huge sets and cinematography create a wonderful atmosphere, and Lon Chaney towers over the film's shortcomings. Fright in this film comes from the darkness, the lurking shadows that play on the superb sets, from Chaney's wonderful performance as a dejected madman – and from the music. There have been many subsequent versions of Gaston Leroux's novel, but none have surpassed this 20s classic. — BG
"The highs are way up there with the best in the tradition of Gothic fantasy: Chaney's best ever phantom, his face scarred to hell by acid, unmasked at the organ by the timorous heroine; the phantom stopping a costume ball when he appears as the Red Death; the phantom shrouded in the most romantic cape ever seen, perched on the top of the statue of Apollo to eavesdrop on the lovers. And the sustained crescendo of the end is still unrivalled."— Tony Rayns
Rupert Julian, the director of Phantom, was born in Auckland in 1889 and moved to the US at the age of 24, working as a stage and screen actor. Turning to directing in 1915, his output was unremarkable until he was assigned to complete Merry-Go-Round in 1923 when Erich von Stroheim (a Film Festival divinity) was fired from it. Of his many silents, Phantom is by far the best, and the best known, though several other hands, including Chaney's, took a turn in its direction. He made only two films after the advent of sound and died after a stroke in 1943.
Carl Davis is the doyen of contemporary composers for silent film. His big symphonic scores for Intolerance, Ben Hur and The Wedding March have thrilled Auckland Live Cinema audiences. His music for Phantom draws liberally from Gounod's Faust, the opera we see performed in the movie.
Marc Taddei is the Auckland Philharmonia's first Associate Conductor. He has conducted in North America and Europe and is a frequent guest conductor throughout New Zealand. Along with his subscription concerts, he has recorded soundtracks for TV3, the New Zealand Natural History Film Unit and Britain's Channel Four (with the Auckland Philharmonia). Taddei has conducted for CDs, opera and educational concerts and conducted Carl Davis' score for Buster Keaton's Our Hospitality at last year's Live Cinema.