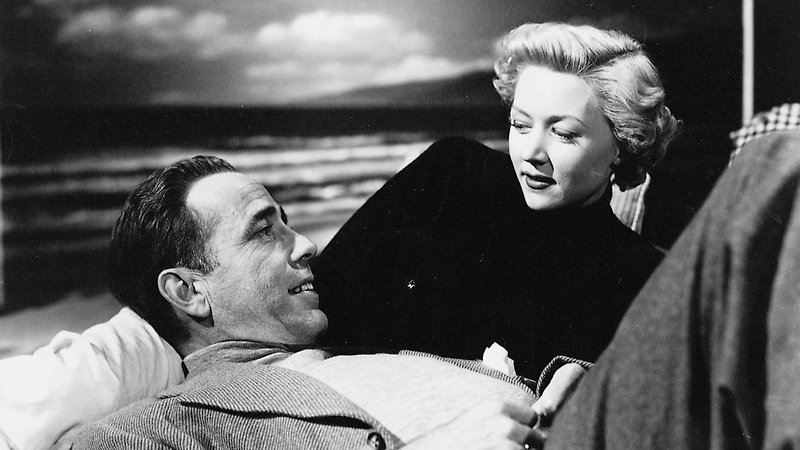 'I was born when she kissed me; I died when she left me; I lived a few short weeks while she loved me.' These are the most famous and poignant lines from In a Lonely Place, an intriguing collaboration between director Nicholas Ray and star Humphrey Bogart. Made by Bogart's independent company Santana Pictures and set in the world of Hollywood filmmaking, it is a sombre, existential tale of two people trying to make a relationship work against the odds. Laurel Gray (Gloria Grahame), a would-be starlet, provides an alibi for screenwriter Dix Steele (Bogart) who is suspected of murder.
It was definitely Ray's most personal film: he was married to Grahame but they had separated by the time production began (she later married his son by a previous marriage!) The film's main set was a replica of Nicholas Ray's first apartment in Los Angeles and he slept there during filming. Ray described himself as the man who took the gun out of Bogart's hand, putting him in a film that was character-driven rather than action-driven.
Bogart here plays a much more complex figure than in Casablanca or The Big Sleep. Dix is a borderline psychotic screenwriter slumming in the Hollywood scene, a self-destructive, volatile alcoholic with a bad temper, a vulnerable aesthete who feels he is surrounded by phonies and bullies. Violently jealous, he certainly has the potential to murder. Dix is paternally protective of his agent and a broken-down actor, but he attacks an innocent college kid, taking out his aggression towards Laurel. She, muse-like, helps him write but frets about his violence, wanting to back out of the marriage he proposes but too scared to tell him.
Is it film noir? Certainly it is a bleak portrayal of life, and of repressed violence. However, the murder mystery is not central, and the narrative doesn't care too much about its solution. Instead it is about a romance very adult for its time. As in much noir, there is no happy ending, but Ray did change the script's original conclusion where Dix killed Laurel. That In a Lonely Place also has elements of screwball comedy and female gothic shouldn't surprise as Ray mixed genres throughout his career.
The role of Dix was the closest Bogart ever came to portraying himself. It was surely his last great performance (exempting the self parody of The African Queen and The Caine Mutiny). Was it his best? — Brian McDonnell